noticia
On February 10, the third Multiplier event of the Erasmus+ Dig4Life – Digital for Literacy and Future Education project was held, participated by the University of Cadiz together with the Italian university Universita degli Studi Roma Tre (project coordinator), Academia Druzba Za Storitve Doo (Slovenia), FH Joanneum Gesellschaft mbH (Austria), Klaipedos Universitetas (Lithuania), Laurea-Ammattikorkeakoulu OY (Finland) and the company Entropy Knowledge Network Srl (Italy). The event was attended by professors Alejandro Calderón Sánchez and Mercedes Ruiz Carreira, from the Computer Engineering Department of the UCA.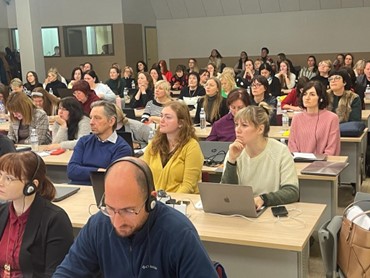 The multiplier event was held at the University of Klaipeda (Lithuania). The event was attended by more than three hundred teachers interested in the latest advances in the educational use of digital technologies. After the opening of the event by Arturas Razbadauskas, Rector of the University of Klaipeda, the professor of this University and member of the consortium, Erika Župerkienė, made a brief introduction to the event and the Dig4Life project. This wasJ followed by a presentation of the motivation, objectives, development and preliminary goals of the project by Professor Mercedes Ruiz from UCA. Next, Julija Melnikova, from the Human Welfare Research Center of the University of Klaipeda, gave a presentation on the applications of learning analytics, which was followed by Norbertas Airošius, an educational technology consultant, on innovative tools for improving digital literacy and the use of artificial intelligence in education.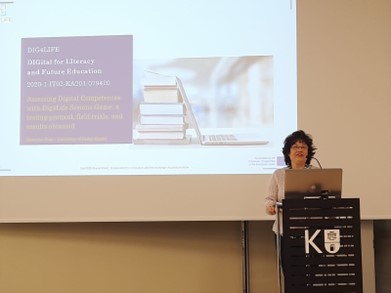 Finally, Michela Fiorese and Angela Macrì, from Entropy Knowledge Network (Italy) conducted a hands-on session on the seriJous game developed in the Dig4Life project in which attendees had the opportunity to learn more about this game and to test their digital skills. At the end of this event, the participating teachers described the game as interesting, useful, fun, multitasking, original, intriguing, and, in general, a good experience.