Cadiz is located in the southernmost region of Spain, so you'll need to first determine where you'll be starting your journey from.
1. Decide on your mode of transportation: Depending on your starting point, there may be several options for how to get to Cadiz. The most common modes of transportation include:
Plane: Cadiz has its own airport, Jerez Airport (XRY), which is about a 40-minute drive from the city center. Alternatively, you can fly into Seville Airport (SVQ), which is about a 90-minute drive from Cadiz. There are direct flights to Jerez and Seville from many European cities, as well as connecting flights from other parts of the world.
Train: Cadiz is connected to the Spanish rail network, so you can take a train from cities like Madrid, Barcelona, and Seville. There are several train stations in Cadiz, including the main station, Cadiz Estación, which is located near the city center.
Bus: There are also several bus companies that offer routes to Cadiz from cities throughout Spain and Europe. Some of the most popular companies include COMES and ALSA.
2. Book your transportation: Once you've decided on your mode of transportation, it's time to book your tickets. You can often find the best deals by booking in advance, so be sure to start your search early. Here are some popular transportation options:
a. Flights: Airlines that fly to Jerez or Seville airports include Ryanair, Vueling, and Iberia. You can book directly through their websites or use a flight aggregator like Skyscanner or Kayak.
b. Trains: You can book train tickets through the Spanish rail company, Renfe, or through a travel agency like Rail Europe. You can check Renfe's website: https://www.renfe.com/es/en
c. Buses: COMES and ALSA are some popular bus companies that offer routes to Cadiz. You can book directly through their websites or through a bus ticket aggregator like Busbud. You can also check COMES' website https://www.tgcomes.es/  and ALSA's website: https://www.alsa.com/en/web/bus/home
3. Book your accommodation:
a. Determine your budget: Before you start searching for accommodation in Cadiz, it's important to determine your budget. Cadiz has a range of accommodation options, from budget hostels to luxury hotels, so knowing how much you can afford will help you narrow down your options.
b. Decide on your preferred type of accommodation: In Cadiz, you can find a variety of accommodation types, including hotels, hostels, apartments, and guesthouses. Consider what type of accommodation would best suit your needs and preferences. You can check our website https://oficinadelestudiante.uca.es/alojamiento/ for some options (information available in Spanish) like Colegio Mayor UCA.
c. Research different neighborhoods in Cadiz: Each neighborhood in Cadiz has its own unique vibe, so it's important to research the different areas to find one that fits your style. Some popular neighborhoods in Cadiz include the Old Town, La Viña, and Santa Maria.
d. Search for accommodation options online: There are several websites and platforms that you can use to search for accommodation in Cadiz, including:

i. Booking.com: This website offers a wide range of accommodation options, from hotels to apartments.
ii. Airbnb: If you're looking for a more local experience, consider using Airbnb to book a room or apartment in Cadiz.
iii. Hostelworld: If you're on a budget, Hostelworld offers a variety of hostel options in Cadiz.

e.  We have had partners of previous international weeks who spent the nights in the following hotels and they had a nice feedback:

Old part of the city (10-15 minutes walk to the internationalization office):
New part of the city:

f. Read reviews: Before you book any accommodation in Cadiz, be sure to read reviews from other travelers to get an idea of what to expect. This can help you avoid any unpleasant surprises and ensure that you have a comfortable stay.
g. Book your accommodation: Once you've found the perfect accommodation in Cadiz, it's time to book your stay. Make sure to read the booking policies carefully and pay attention to any fees or taxes that may be added to the total cost.
h. Plan your stay: Before you arrive in Cadiz, it's a good idea to plan out your stay. Make sure to note the check-in and check-out times, as well as any amenities or services that are included in your booking. You can also research things to do and see in Cadiz to make the most of your stay.
4. Pack and prepare for your journey: Before you leave for Cadiz, be sure to pack all of the essentials you'll need for your trip. This may include your passport, any necessary travel documents, comfortable clothing and shoes, and any medications you need. You should also research the weather in Cadiz during your travel dates so you can pack accordingly.
5. Arrive in Cadiz and enjoy your trip
: Once you arrive in Cadiz, take some time to explore the city and all it has to offer. Some of the top attractions in Cadiz include the Cathedral of Cadiz, the Castle of San Sebastian, and the Plaza de España. You can also take a stroll along the beach or sample some of the delicious seafood for which Cadiz is known: you can go to
Mercado Central
or
check some recommendable restaurants here
.
ABOUT CADIZ, JEREZ, AND ALGECIRAS
CADIZ
Cadiz is one of the oldest continuously inhabited cities in Europe, with a history dating back over 3,000 years.
The city is situated on a small peninsula in southwestern Spain, surrounded almost entirely by water, which has earned it the nickname "the Silver Cup."
Cadiz played a crucial role in the history of Spain and the Americas, serving as a major port for trade with the New World and a launching point for Spanish conquests.
The city is known for its lively Carnaval celebration, which is one of the largest and most famous in Spain, drawing visitors from all over the world.
Cadiz is also renowned for its beaches, with miles of pristine sand stretching along the coast and crystal-clear waters that are perfect for swimming and water sports.
The city is home to several historic landmarks, including the ancient Roman theatre, the 18th-century Cadiz Cathedral, and the Castle of San Sebastian.
Cadiz is also famous for its seafood, with a wide variety of fresh fish and shellfish caught daily by local fishermen and served in the city's many excellent restaurants.
The city has a rich cultural scene, with a thriving music and arts scene, numerous museums and galleries, and a vibrant nightlife that lasts until the early hours of the morning.
Cadiz has been home to many famous writers and artists, including the poet Federico Garcia Lorca, the composer Manuel de Falla, and the painter Francisco de Goya.
Finally, Cadiz is a great place to experience the unique Andalusian culture and lifestyle, with friendly locals, warm weather, and a relaxed atmosphere that makes it a perfect destination for tourists from all over the world.
There are a lot of places you can visit on your free time.
For walking
:
-Parque Genovés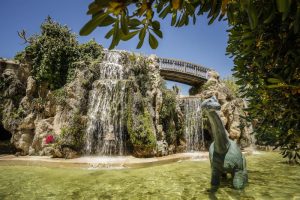 -Alameda
-Plaza España
Beaches
:
-Playa La Caleta
-Playa Santa María del Mar
-Playa La Victoria
-Playa Cortadura
Culture
:
-Catedral
-Teatro Romano (free entrance)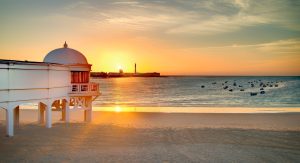 -Ayuntamiento
-Gran Teatro Falla
-Museo arqueológico (free entrance for EU citizens; don't forget your identity card)
Shopping
:
-Columela
-Calle Ancha
-El Corte Inglés
Nightlife
:
-Pópulo
-Plaza Mina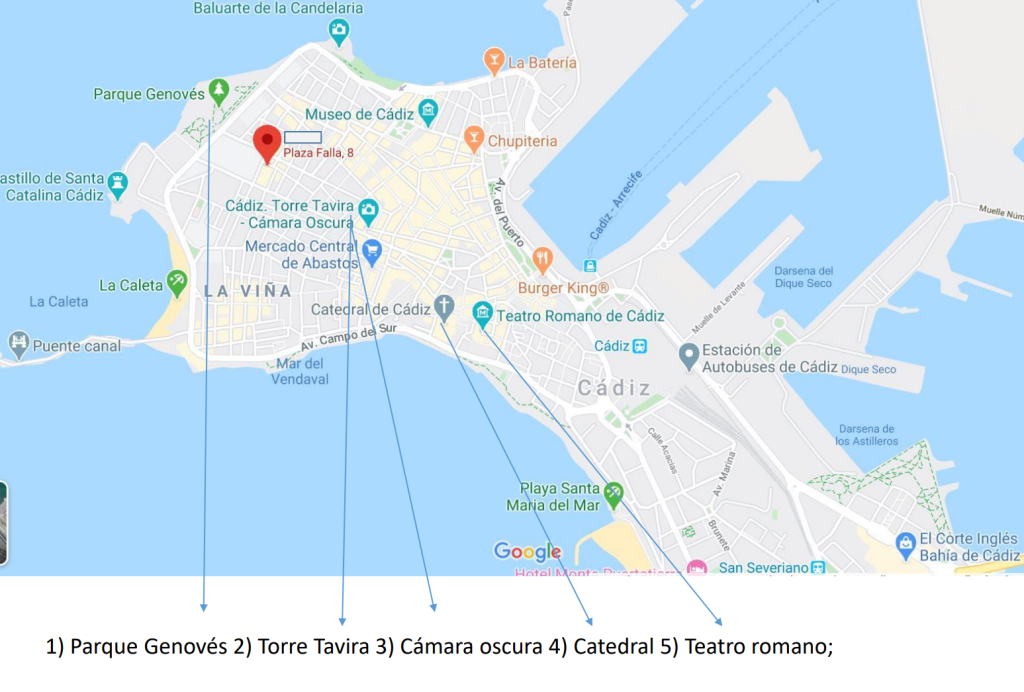 JEREZ
Jerez is a city in the province of Cadiz, located in the southwestern region of Andalusia in Spain.
The city is famous for its sherry wine, which has been produced in the region for over 3,000 years and is now recognized as a protected designation of origin (PDO).
Jerez is also home to the Royal Andalusian School of Equestrian Art, which is dedicated to the preservation and promotion of classical horsemanship and the Spanish Riding School tradition.
The city is known for its beautiful historic center, which is filled with winding cobblestone streets, charming plazas, and stunning architecture, including the Cathedral of San Salvador.
Jerez has a rich cultural heritage, with a history that dates back to ancient times and a strong Moorish influence that can still be seen in its architecture, music, and cuisine.
The city is famous for its flamenco music and dance, which has its roots in Andalusia and is celebrated with numerous festivals and performances throughout the year.
Jerez is also home to several museums, including the Archaeological Museum, the Museum of Flamenco, and the Andalusian Center for Contemporary Art.
The city is surrounded by beautiful natural landscapes, including the Parque Natural de los Alcornocales, a protected nature reserve filled with cork oak forests and diverse wildlife.
Jerez is also home to the Circuito de Jerez, a world-renowned motor racing circuit that hosts the Spanish Grand Prix and other international events.
ALGECIRAS
Algeciras is a port city located in the province of Cadiz in the autonomous community of Andalusia, southern Spain.
The city is situated on the Bay of Gibraltar, which is a strategic location for trade and shipping between Europe and Africa.
Algeciras has a rich history, with evidence of human settlements dating back to prehistoric times, and was once an important stronghold of the Moors during their occupation of Spain.
The city is known for its stunning natural beauty, with rugged mountain ranges, lush green valleys, and picturesque beaches that offer excellent opportunities for outdoor activities such as hiking, mountain biking, and water sports.
Algeciras is also a gateway to the nearby attractions of Gibraltar, with its famous Rock of Gibraltar, Barbary macaques, and unique culture and history.
The city is a melting pot of cultures, with a diverse population that includes Spanish, Moroccan, and British expats, among others.
Algeciras is a major transportation hub, with a busy port that serves as a gateway to North Africa and a train station that connects the city to other parts of Spain and beyond.
The city is known for its lively street markets, where visitors can find everything from fresh produce and seafood to handicrafts and souvenirs.
Algeciras is also famous for its seafood, with local dishes that feature fresh fish and shellfish caught in the waters of the Bay of Gibraltar.
GOING ON AN EXCURSION AT THE WEEKEND